Advanced Makeup Certification Program
Whether you're interested in makeup for the salon, entertainment, media, fashion, or retail industries and hoping to build your professional skills with a continuing education course, Aspen Beauty Academy, a MUD partner school, provides a comprehensive education in the fundamentals of makeup, airbrush and bridal.
Hands On Classes
3 Courses, 3 Kits
8 Weeks
MUD is the International Leader in Makeup Artistry Schools
MUD-Issued Certificate
Payment Plans Offered
I love this… tell me more!
Aspen Beauty Academy offers the MUD Advanced Makeup program where you will gain the foundations of makeup application and theory, airbrush and bridal makeup so that you can take those skills along with your unique talent and build a professional beauty career.

MUD graduates work all over the world, from fashion runways and movies to opening their own professional makeup studios and starting their own makeup lines. At Aspen Beauty Academy – Laurel, we focus on giving you the tools you need to then follow your dreams wherever they may lead. Below, we'll go into a bit more detail about what you will learn in the MUD Advanced makeup course.
Why Aspen Beauty Academy -Laurel?
We are the only makeup school in Maryland to offer MUD's top-notch, in-depth makeup certification program.
Our instructors have years of experience. They love teaching, are enthusiastic, and are vested in you and your career. When you sign up with Aspen Beauty Academy of Laurel, you will receive a deeper, thorough understanding of the entire makeup industry and makeup applications and techniques.
Our mission is to see you, our students, succeed in your chosen professional advanced beauty-related career.
Our makeup classes are hands-on. You will be spending a large part of your time in practical application, applying makeup for hours guided by the instructor. Every day you will learn something different, whether it's makeup application for the runway model or creating a glamorous look from your own imagination. The only limits are what you can imagine.
MUD and Aspen Beauty Academy of Laurel are 100% dedicated to your long-term success, even if you just need help on a project you are working on. Our professional instructors are always available for questions and help.
Why MUD?
MUD's curriculum is precise and well-known, developed from the curriculum from LA and New York studios.
MUD is an international leader in makeup artistry schools.
Upon successful completion of the Advanced Makeup Artistry program, you will receive a MUD -issued certificate.
MUD's curriculum is the perfect blend of classroom, demonstrations with lab work, and assignments. You will learn how to research your given makeup artist task, how casting is done, and how to translate your work to the professional photo shoot.
MUD courses are comprehensive and focused, allowing you to personalize your course to what you need.
Upon starting each of your Advanced Makeup Artistry training, you will receive a makeup kit full of MUD's high-quality products, which has been precisely designed for everything you need to get started as a professional makeup artist. 
MUD courses are designed along strict curricula with defined goals. Your course records are tracked, and certifications are delivered through the MUD corporate offices in California. The courses are divided into two categories, Level I and Level II. The Level I, Beauty Essentials course is the foundation of your make-up knowledge. The Level II courses offer a variety of specialty subjects to enhance the knowledge of niche artistries. We offer two core specialty courses, Airbrush and Bridal Makeup.  This program is not accredited by NACCAS and not eligible for federal financial aid, however, various payment plan options are available. 
Beauty Essentials
Course length: 84 hours
This course is designed as an introduction to beauty makeup with an emphasis on the techniques required today in this multifaceted industry. Regardless of which of these areas students intend to work in, mastery of beauty makeup is a must. In this course, students will start by learning facial analysis, base matching and application, correction, and contours and highlights, with an added focus on eyes and lips. The course finishes with complete make-up applications ranging from one hundred percent corrective to natural makeup.
Lesson Modules
Orientation Unit
Base Unit
Corrective Unit
Highlight & Shadow Unit
Eye Unit
Lip Unit
Beauty Make-up Unit
Natural Make-Up Unit
Social Media Unit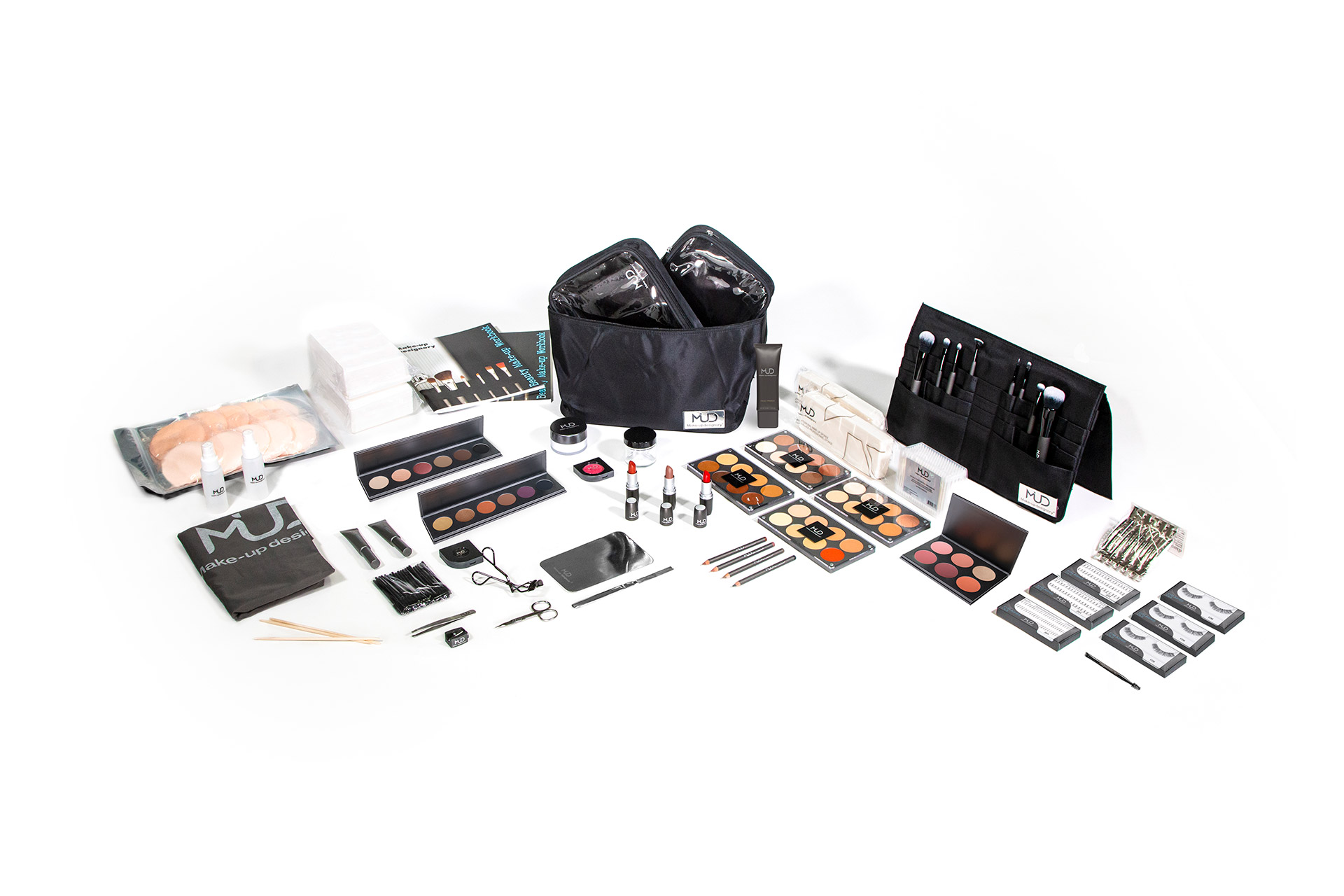 Airbrush
Course length: 35 hours
Airbrushing has become one of the premier ways of applying make-up. In this course, the airbrush is de-mystified. Students are shown how to properly care for and maintain it. In addition, students will study the techniques necessary to do beautiful, flawless beauty makeup. Learn the techniques that are required by the entertainment industry, as well as demanding clients.
Lesson Modules
Orientation
Airbrush Basics
Breakdown and Maintenance of the Tool
Base Matching
Base Application
Highlight and Shadow
Highlight and Shadow for Beauty
Body Make-up
Foundation of Beauty Makeup
Avant-Garde Make-up
Bridal
Course length: 21 hours
With a focus on the lucrative world of weddings, the Bridal Makeup Artistry Course takes the student from consultation to the creation of a bride's perfect look. The Bridal Course begins with the idea that a successful wedding makeup application starts with a clear plan for the bride and her family. From there, students learn both business and additional makeup techniques required to be successful in the bridal business.
Lesson Modules
Building your Bridal Business
Bridal Makeup
Freelancing
Consultation
Websites
About MUD
MUD (Make-up Designory) was founded by professional makeup artists who wanted to bring their skills and crafts to others. In today's world, beauty professionals need to be multi-faceted, meaning they need to be skilled in more than one area, such as hair, makeup, skincare, and nails. You must be competent in all aspects of your craft. Hence, MUD was born, bringing the best in professional makeup artistry to students of cosmetology, aesthetics, and other licensed professionals in the beauty industry to you.
MUD's Beauty Essentials makeup course is standardized, meaning it is the same course no matter where you take it — as long as it is from a certified MUD Partner School, such as Aspen Beauty Academy – Laurel. All makeup certifications are delivered from the corporate offices of MUD. MUD is internationally recognized and considered a leader in makeup application courses.
Registration Steps
Be at least 16 years old.
Hold a cosmetology-related license
Provide proof of high school graduation or G.E.D. Students who attended secondary school outside the U.S. must provide proof of completion of the equivalent to an American High School.
Provide photo ID.
Decide on financial options.
Graduation Requirements
For a student to graduate and be awarded a certificate, he/she must:
Achieve a grade of at least 80% in each course
Achieve a grade of at least 80% in each course exam
Attend a minimum of 90% of the scheduled hours
Satisfy all financial obligations to the school
Session Schedule & Date
140 clock hours. 8 weeks.
Monday through Thursday 6:00PM-9:30PM and every other Saturday 9:00AM-4:30PM
Upcoming Session: Jun 26 – August 26
No classes the week of July 3rd 
Tuition and Fees
Tuition: $2,100.00
3 Make-up Kits: $1,968.00
Beauty Essentials
Airbrush
Bridal
Registration: $100.00