Advanced Makeup Certification Program
Whether you're interested in makeup for the salon, entertainment, media, fashion, or retail industries and hoping to build your professional skills with a makeup course, Aspen Beauty Academy – Laurel, a MUD partner school, provides a comprehensive education in the fundamentals of makeup, airbrush and bridal.
Hands-on classes.
Detailed curriculum.
1 program – 3 courses: Beauty Essentials, Airbrush and Bridal.
3 complete professional kits.
5 evening classes/week for 8 weeks.
Experienced makeup artists instructors.
MUD is the international leader in makeup artistry schools.
Receive a MUD-issued certificate upon the successful completion of the program.
Pay Later options available with PayPal and Affirm.
Not included in our cosmetology program
I love this… tell me more!
Aspen Beauty Academy – Laurel offers the MUD Advanced Makeup program where you will gain the foundations of makeup application and theory, airbrush and bridal makeup so that you can take those skills along with your unique talent and build a professional beauty career.

MUD graduates work all over the world, from fashion runways and movies to opening their own professional makeup studios and starting their own makeup lines. At Aspen Beauty Academy – Laurel, we focus on giving you the tools you need to then follow your dreams wherever they may lead. 
Why Aspen Beauty Academy -Laurel?
We are the only makeup school in Maryland to offer MUD's top-notch, in-depth makeup certification program.
With us you will receive a deeper and thorough understanding of the entire makeup industry, makeup applications and techniques.
Our makeup classes are hands-on. You will be spending a large part of your time in practical application, applying makeup for hours guided by the instructor. Every day you will learn something different, whether it's makeup application for the runway model or creating a glamorous look from your own imagination. The only limits are what you can imagine.
MUD and Aspen Beauty Academy of Laurel are fully dedicated to your long-term success, even if you just need help on a project you are working on. Our professional instructors are available for questions and help.
Why MUD?
The MUD curriculum is precise and well-known, developed from the LA and New York studios.
MUD is an international leader in makeup artistry schools.
MUD's curriculum is the perfect blend of classroom, demonstrations with lab work, and assignments. 
MUD courses are comprehensive and focused.
For your Advanced Makeup Artistry training, you will receive 3 makeup kits full of MUD's high-quality products, which have been precisely designed for everything you need to get started as a professional makeup artist. 
Upon the successful completion of the Advanced Makeup Artistry program, you will receive a MUD -issued certificate.
MUD's Beauty Essentials makeup course is standardized, meaning it is the same course no matter where you take it — as long as it is from a certified MUD Partner School, such as Aspen Beauty Academy – Laurel.
MUD courses are designed along strict curricula with defined goals. Your course records are tracked, and certifications are delivered through the MUD corporate offices in California. The courses are divided into two categories, Level I and Level II. The Level I, Beauty Essentials course is the foundation of your make-up knowledge. The Level II courses offer a variety of specialty subjects to enhance the knowledge of niche artistries. We offer two core specialty courses, Airbrush and Bridal Makeup.  This program is not included in our cosmetology program, not accredited by NACCAS and not eligible for federal financial aid, however, various payment plan options are available. 
Beauty Essentials
Course length: 84 hours
This course is designed as an introduction to beauty makeup with an emphasis on the techniques required today in this multifaceted industry. Regardless of which of these areas students intend to work in, mastery of beauty makeup is a must. In this course, students will start by learning facial analysis, base matching and application, correction, and contours and highlights, with an added focus on eyes and lips. The course finishes with complete make-up applications ranging from one hundred percent corrective to natural makeup.
Lesson Modules
Orientation Unit
Base Unit
Corrective Unit
Highlight & Shadow Unit
Eye Unit
Lip Unit
Beauty Make-up Unit
Natural Make-Up Unit
Social Media Unit
Beauty Essentials Kit
Make-up Case
Brushes: #210, #220, #310, #350, #500, #620, #710, #900, & #940
Foundation Primer
Black Cake Eyeliner
2 Eye Color Palettes
1 Cheek Color Palette
1" Refillable Eye Compact (For Eyeliner)
6 Cheek Color Refills: Rose Petal, Soft Peach, Spark, Poppy, Garnet, Pumpkin
Corrector Palette
Pencil Sharpener
2 Eye Pencils: Black & Taupe
Brow Fix
Mascara (Volumizing)
12 Eye Shadow Refills: Bone, Pixie, Pomegranate, Taupe, Semisweet, Onyx, Bronzed, Pyramid, Firebrick, Sedona, Velvetine, Smoked Sapphire.
Foundation Palettes 1 and 2
Face Primer
Highlight & Shadow Palette
Lip Gloss: Shine
2 Lip Pencils: Red & Natural
3 Lipsticks: Lucky, Rose Clay, & Eggplant
Loose Powder: Buttercream
Metal Palette
2 Spray Bottles
Tweezers
Eyelashes: #106 Strip (3 sets), #202 Medium Flare, & #301 Single
Double Point Cotton Applicators
Scissors
Palette knife
Eyelash Curler
10-Pack of Powder Puffs
2 Packs of Sponges
Mascara Wands
Brush Belt 3 in 1
Cover Cloth
Make-up Remover Towelettes
Glass Container
MUD Station Mats
Orangewood Sticks
Duckbill Hair Clips
Make-up Designory's Beauty Make-up – ISBN: 978-0-9749500-1-3
Beauty Make-up Workbook – ISBN: 978-0-9749500-6-8
*Some of the items listed in the kit may be replaced by MUD when necessary and without notice.
Additional Required Materials
99% Alcohol

Brush Cleaner

Duo Eyelash Adhesive

Hand Sanitizer

Facial Tissue

Facial Moisturizer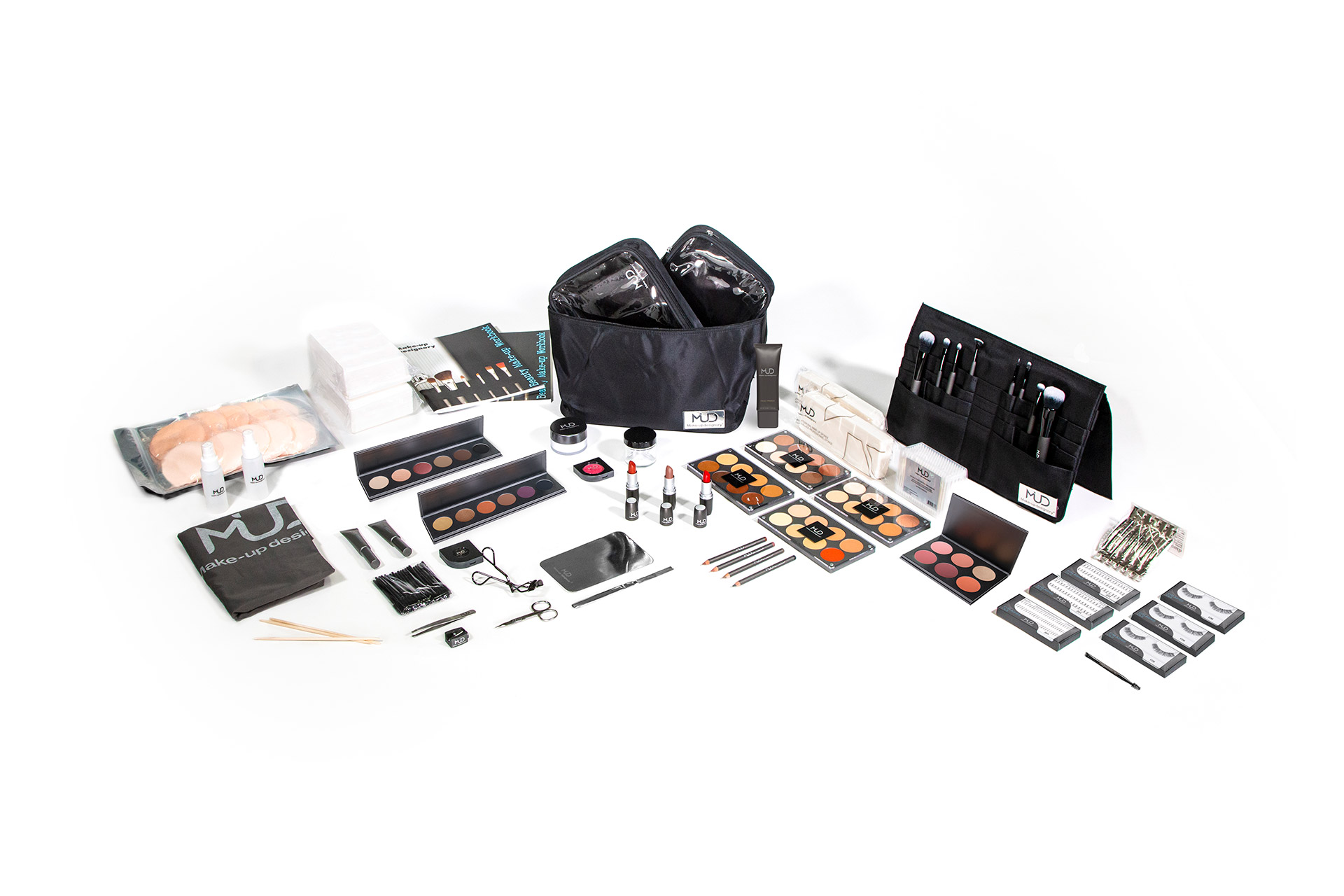 Airbrush
Course length: 35 hours
Airbrushing has become one of the premier ways of applying make-up. In this course, the airbrush is de-mystified. Students are shown how to properly care for and maintain it. In addition, students will study the techniques necessary to do beautiful, flawless beauty makeup. Learn the techniques that are required by the entertainment industry, as well as demanding clients.
Lesson Modules
Orientation
Airbrush Basics
Breakdown and Maintenance of the Tool
Base Matching
Base Application
Highlight and Shadow
Highlight and Shadow for Beauty
Body Make-up
Foundation of Beauty Makeup
Avant-Garde Make-up
Airbrush Make-Up Kit
12 HD Air Foundations
6 HD Air Colors
4 HD Air Contour Colors
Double Action Airbrush
Tabletop Cleaning Station
Cleaning Solution
Cleaning Brush Set
Air Compressor with Air Hose
*Some of the items listed in the kit may be replaced by MUD when necessary and without notice.
Additional Required Materials
Newsprint pad, (14 x 17)

Stencils

Utility Scissors

Facial Moisturizer

99% Alcohol

Brush Cleaner

Facial Tissue

Hand Sanitizer
Bridal
Course length: 21 hours
With a focus on the lucrative world of weddings, the Bridal Makeup Artistry Course takes the student from consultation to the creation of a bride's perfect look. The Bridal Course begins with the idea that a successful wedding makeup application starts with a clear plan for the bride and her family. From there, students learn both business and additional makeup techniques required to be successful in the bridal business.
Lesson Modules
Building your Bridal Business
Bridal Makeup
Freelancing
Consultation
Websites
Bridal Makeup Kit
Brushes: #300, #510, #700 & #800
2 Bronzers: Sunshine & Endless Summer
6 Eye Color Refills: Canyon, Orchid, Dulce de Leche,Daisy, Vineyard, & Pacific
Vintage Eye Pencil
2 Cheek Color Refills: Lemon Cream & Rose Beige
Sun Rose Color Crème
2 Lip Colors: Just Peachy & Havana
Magnolia Lip Glaze
Maple Lip Pencil
2 2-Pack of Powder Puffs
1 Pack of Sponges
Continuity Face Chart
Clear Pouch
*Some of the items listed in the kit may be replaced by MUD when necessary and without notice.
Additional Required Materials
99% Alcohol
Brush Cleaner
Duo Eyelash Adhesive
Hand Sanitizer
Facial Tissue
Facial Moisturizer
Registration Steps
Be at least 16 years old.
Provide proof of high school graduation or G.E.D. Students who attended secondary school outside the U.S. must provide proof of completion of the equivalent to an American High School.
Provide photo ID.
Decide on financial options.
Graduation Requirements
To graduate and be awarded a certificate, a student must:
Achieve a grade of at least 80% in each course
Achieve a grade of at least 80% in each course exam
Attend a minimum of 90% of the scheduled hours
Complete all assignments
Satisfy all financial obligations to the school
Schedule & Session Dates
140 hours. 8 Weeks.
Monday through Friday 6:00-9:30PM
2023 Sessions:  November classes start date to be announced. 
Tuition & Fees
Registration: $100.00
Tuition: $2,500.00
3 Make-up Kits: $2,358.00
Beauty Essentials
Airbrush
Bridal
Pay Later options available with PayPal and Affirm.  
For qualified customers, payment options range from 0% interest with Pay in 4 or up to 24 months and interest bearing installments up to 36 months. A monthly payment could be as low as $137.72.